Closet, cellar or storm doors require the thumblatch handle on the side that pulls out to open. The Reverse Bevel Trim Set includes a special latch bar, staple and catch, for use with any thumblatch.
D)


2520-Int.




Interior Reverse Bevel
Trim Set: 6" L bar.

2520-Ext.


Exterior Reverse Bevel
Trim Set: 7" L bar.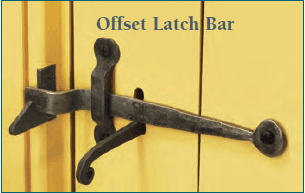 Offset latch bars are often used for doors not hung flush with the casing. Our standard would be for a 3/4" thick casing, but we can tailor it to fit any thickness casing. (Please specify casing thickness).


E)

2303-1


Offset Latch Bar
6" L bar.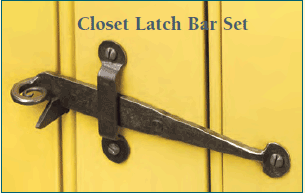 This is a complete latch set designed specifically for pantry or closet doors. It consists of a "coiled rat-tail" latch bar with a screw mounted staple and drive catch. The latch bar has a prong that protrudes through a slot in the door so, as an emergency release it can be opened from the inside.
F)
2530

Closet Latch Bar Set


7" L bar.