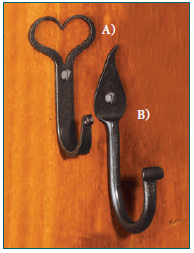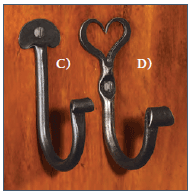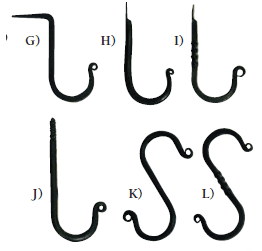 The village smith was always busy forging useful pieces for the household, small and large alike. We've reproduced some traditional hook designs and also told our smiths to use their imaginations. You'll find lots of uses for these hooks.
Large Hooks
Carefully detailed with a large radius, these heavy hooks are perfect for hanging curtain rods, towels, antique firearms, wreaths, garden tools and much more.
1132-1

1126-1

1122-1

1131-1

Flat Heart Hook


3 1/2" L x 1 1/2" D.


Round Leaf Hook


4 1/2" L x 2 1/2" D.


Round Bean Hook


4" L x 2 1/2" D.


Round Heart Hook


4 1/2" L x 2 1/2" D.
Small Hooks
These are reproductions of traditional hooks used around 18th century homes. Driven into beams, "S" hooks as extenders on fireplace cranes, and hooks for baskets, are just a few suggestions.
G)

1123-1

Square Drive Hook

H)

1125-1

Round Hook
I)

1127-1

Square Hook with Twist
J)


1120-1



Round Threaded Mantle Hook




(G-J are 3" L x 1 3/4" D.)




K)

9135-5

Round "S" Hook

L)


9145-5



Square "S" Hook


(K & L avail. 3 1/2", 6" & 9" L.)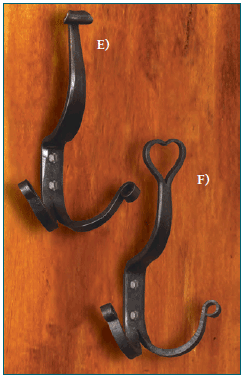 Coat Hooks

These designs actually create 3 hooks in one. They'll easily hold a coat, scarf and hat. Great for bathroom walls or on the back of doors. 6" L x 2" D.
| | |
| --- | --- |
| E) 1124-1 | Scroll Coat Hook |
| F) 1134-1 | Heart Coat Hook |
Wall Mounted Coat Rack

Here is a coat rack strong enough to do the job. This rack is the answer for your mudroom or back entryway and will provide a welcome place to hang those heavy winter coats and hats. Four oversized hooks are riveted to an iron bracket that is hand detailed with your choice of a fleur-de-lis or fish tail at each end. 36" L x 9" H x 4" D.
(Please specify fleur-de-lis or fish tail ends).