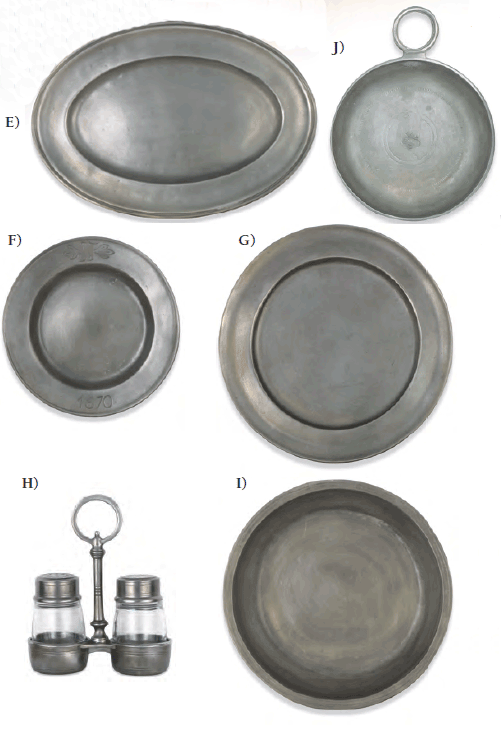 Early pewterware was made from a variety of alloys usually containing tin, copper, antimony and lead. The manufacturing process was one of casting to produce plates, cups, mugs and a wide assortment of other house wares.

In the 18th century pewter was produced as a substitute for sterling silver and in widespread use as a more affordable alternative for setting the dinner table.

The pewterware we offer is completely safe to use (it contains no lead), but unlike much of the reproduction pewter available today it has the soft patina and texture of the originals. We feel it is an essential element of period décor.
A)
896-P
4 1/2" Pewter Candlestick

(candle not included)

B)
894-P
Pewter Mug with Handle

(4 1/2" H)

C)
893-P
Pewter Mug/No Handle

(4 1/2" H)

D)
897-P
5 1/2" Pewter Candlestick

(candle not included)

F)
890-P
6" Pewter Plate – Dated "1670"
G)
890-P
8 1/2" Pewter Plate
H)
895-P
Glass Salt & Pepper Set with Pewter Tops & Holder
Holder: 6" H x 5" W. Shakers: 3" H.
I)
899-P
8" Pewter Bowl
J)
898-P
7" Pewter Porringer Bowl