287 New Milford Turnpike (Rte 202)
PO Box 2305
New Preston, CT 06777-1606
Phone: (800) 247-4111 or (860) 619-0400 Fax: (860) 619-0243
---
P E R I O D A C C E S S O R I E S • M A D E I N U . S . A .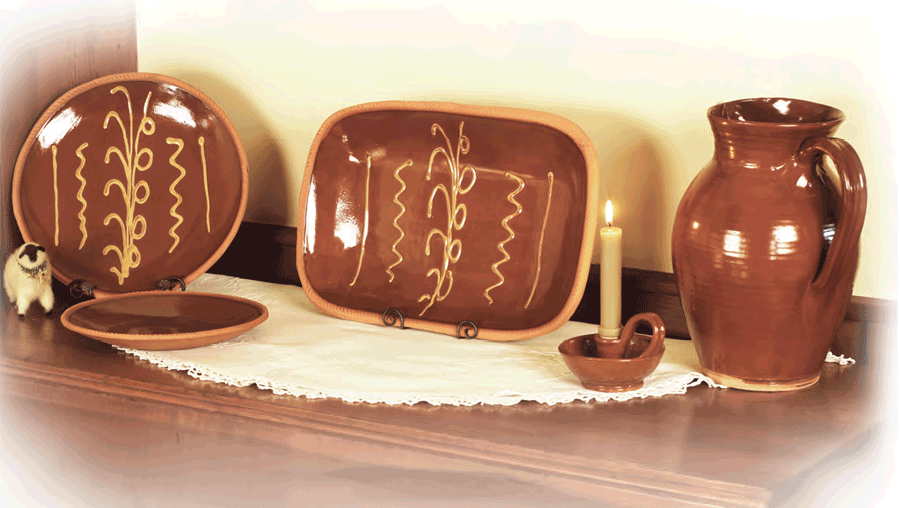 E

arly redware was used in a variety of ways in 18th century New England homes. Made from clay that was commonly found near riverbanks, the local potter produced an amazing selection of plates, pitchers, bowls, candlesticks and teapots to name a few!

The majority of these items were glazed, making them impervious to moisture. Redware can be used to store and serve food and will easily withstand temperature necessary for baking. Potters would sometimes decorate their pieces with a white clay slip before glazing with simple line and dot designs.




A)
812-SRP
Small Redware Plate
9"-10" Dia.
812-SRW
Small Redware Plate/ Wheat Design
9"-10" Dia.
812-LRW
Large Redware Plate/Wheat Design
11"-12" Dia.
812-LRP
Large Redware Plate
11"-12" Dia.
B)
811-RP
Redware Platter
811-RW


Redware Platter/Wheat Design
15" L x 9" W.

C)


864-R


Redware Chamberstick
4" Dia. (Candle not included).

D)





831-SR

831-MR

831-LR

Small Redware Pitcher
Holds 1 pint. 4" H.
Medium Redware Pitcher
Holds 1 quart. 7" H.
Large Redware Pitcher
Holds 1 gallon. 10" H.
E)






852-SR

852-MR

852-LR


Small Redware Covered Jar
Holds 2 cups. 4" H.
Medium Redware Covered Jar
Holds 2 lbs. 7" H.
Large Redware Covered Jar
Holds 4 lbs. 10" H.

F)





823-SR

823-MR

823-LR

Small Redware Bowl
5" Dia.
Medium Redware Bowl
7" Dia.
Large Redware Bowl
10" Dia.




Slight variations are to be expected in size & design with in size & design with hand-made items, therefore sizes are approximate.